ReminderDesk – Appointment Reminders
Send Reminders Fast and Efficiently with Our Appointment Reminder Software
Everyone needs a reminder now and then. This is especially true when it comes to keeping important appointments. No matter what type of business you may have, if you schedule meetings, counseling, reservations, or any other type of appointment you could really utilize software that sends out reminders instead of using an employee to call and give reminders. Let us introduce you to our appointment reminder software ReminderDesk. Our software allows you to use multiple campaigns and use specific messages for each specific group. You could use one for normal appointment reminders, and another for office closings due to inclement weather, annual check-ups, or even birthday wishes. Using our software gives you the ability to reach thousands of people in a very short amount of time.
Enjoy the Use of Many Different Reminder Application Interfaces
You may be familiar with the traditional reminder call that other vendors offer, their system calls patients or customers and plays a voice message that's fixed. A lot of times those types of calls are called spam calls and are met with a fast hang-up. When you use our software it incorporates anti-spam technology that includes displaying a business name and caller ID. We fully customize your message per your request including the name, time and date of an appointment, address and location information, what service can be expected, and pre-appointment requisites. Today we have incorporated many other interfaces including text appointment reminders, as well. You can trust us to fully leverage the potential of automated appointment reminders for your company within multiple interfaces such as VoIP, emails, and push notifications all incorporated into ReminderDesk.
Choose from Any of Our Innovative Reminder Interfaces:
Inbound Call Notification
Phone Reminders
Appointment Confirmation
Text Reminders
Text Reminder Confirmation
Email Reminders
Push Notifications
Social Media Notification
Contact Us
Contact us today to start using our automated reminder system that can make your business run even better. We're ready to assist you with any questions you may have and help you get started today.
Using the traditional Robo calls that many vendors offer, the system calls your customers or patients and plays a fixed voice message . Many people consider these as spam calls and simply hang up. Our software incorporates anti-spam technologies that include displaying your Caller ID and Business Name. Also we customize the message per your needs, including name, date & time of an appointment, location & address information, what service will be delivered, and any pre-appointment requisites. Gone are the days where people used phones as their only mode of communication. The arrival of Smartphones, push notifications, VoIP, and emails has changed all that. To fully leverage the true potential of automated appointment reminders, we incorporate multiple interfaces into ReminderDesk.

A high quality, human-recorded voice. ReminderDesk can handle 1 to 200 calls at the same time.

Inbound Call Notification
For those who have missed calls, ReminderDesk offers the option to accept inbound calls and play a notification message.

ReminderDesk allows your customers to press certain keys to confirm an appointment or request rescheduling.

We send out text notification with your custom message. Length over 160 characters is sent multiple text messages.

Text Reminder Confirmation
2-way SMS Text Notification allows your customers to reply back with a confirmation or a request for a call back.

Email notification is sent along with a link or buttons to confirm an appointment. You can customize the look and feel of email notification with graphics and your own logo. You can also attach PDF documents.
Push notifications go to any Smartphone users who have authorized receipt of push notifications.
Social Media Notification
Just post messages to your social media outlets with one click inside our admin portal. Social Media Notification can also mass notify all your social media followers/fans who are customers.
2-way phone, 2-way text, 2-way email notifications, push notifications, and social media notification
Automatic phone type look-up of landline or mobile number
Multi-lingual voice, text, and email notification
Multiple concurrent calls speed message delivery
Optional call transfer to a live agent
256-bit Industry standard encryption, so your data stays safe
Fully customizable messages include name, appt date & time, location, address, directions and service info
Color coded icons display attempts made, live notification status, and customer input
Run multiple campaigns for multiple groups with just the click of a button
A Do-Not-Call registry
Easy file upload options
24/7 support via phone, text, email, online tickets, or live chat
No annual contract – just monthly billing
Lowest price guaranteed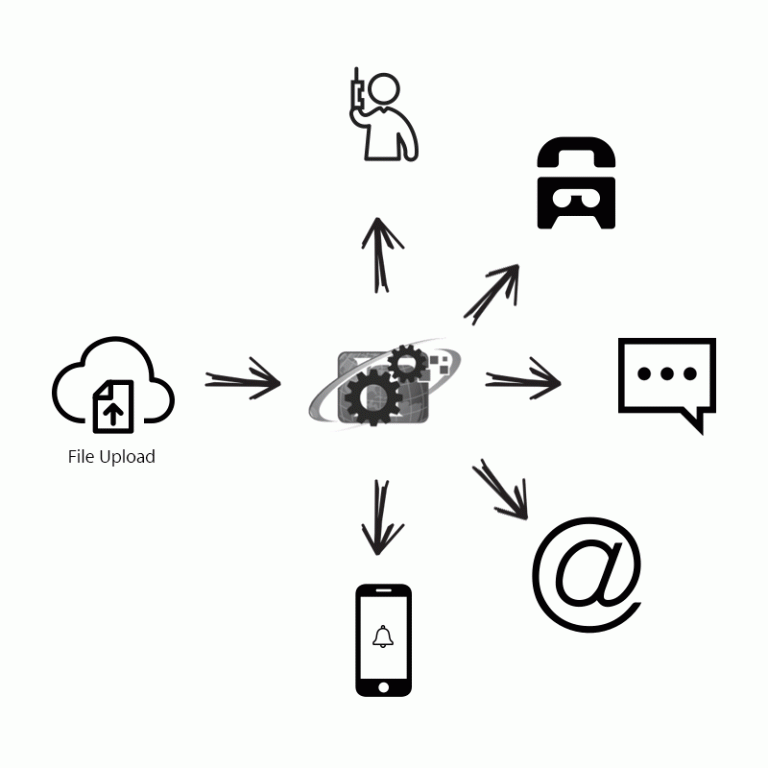 Simply upload your export file to our Cloud on our admin site. We accept a wide variety of file formats, including CSV, Excel, TXT, PDF, XML and JSON. Our system sorts patient / customer details like name, landline phone, mobile phone, and email and automatically sends notifications via outbound phone calls, detects answering machines and even can leave a different message, SMS text, email and/or push notifications.
We have done lot of customization for many of our clients. Feel free to talk with our sales team to learn more about our products and how our solutions can fit in to your organization and what custom changes we can make it to work.